ToyWatch White Plasteramic
The white watch seen in the film the Blind Side is a ToyWatch White Plasteramic, available on Amazon for $275. We first thought it might have been a Chanel J12 diamond ceramic watch. There are many white ceramic/plastic watches available that are based on the timeless Chanel design, and the ToyWatch is one of them. The watch has the same white color band, the diamond bezel looks the same (two rows of diamonds), and it has the same protective shoulders around the crown.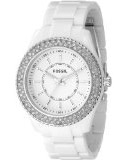 It was also suggested that the watch in the movie was a Fossil Stella watch, which is very similar, and much more affordable, around $95, but that one doesn't have the crown guards (the protective sides of the button on the right). This Fossil is a good alternative, though, if your looking for the same style but don't want to spend the several thousands of dollars for the Chanel J12 or the $295 for the ToyWatch. Check out the Stella White Glitz here, or this Le Chateau for $599 which also looks similar.
Another popular unicolor watch is the Ice-Watch, available in many cool colors including the white Stone Sili version with Swarovski elements ($245) which resembles the ToyWatch in price as well as looks.
On eBay there are already some white ToyWatches Plasteramic models available for good prices as well.

  UK visitors: find the Fossil Stella White (£68), Ice-Watch Stone Sili (£118.75) or other white ceramic watches here on Amazon.co.uk.
ToyWatch watches have been seen on many other celebrities, including this purple Plasteramic on the wrist of Michele Obama.