Timex Originals T2N791 - Joey King - White House Down
Joey King wearing the Timex T2N791 watch with color markers in White House Down
photo ©
Columbia Pictures
Timex Originals Classic Round T2N791
In the 2013 film White House Down, Emily Cale (played by Joey King), the daughter of main character John Cale (played by Channing Tatum) wears a Timex Originals Classic Round T2N791.
The watch has a white leather strap, steel case, white dial and hour markers in rainbow colors. The watch is part of the Timex originals collection and is also available in all black with the colorful markers.
This Timex T2N791 multi color marker watch is also marketed as T2N791AB, Heritage, Easy Reader, or in the UK as Timex Trend T2N791PF.
More info on the official Timex website, or buy the watch on Amazon.com, Amazon.co.uk (UK), or eBay.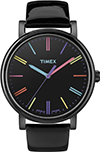 There is also a black version of this Timex watch, modelnumber T2N790, with a black strap, black case, black dial but still with the colorful markers. This watch is available on Amazon.com or Amazon.co.uk or eBay.
In the same film, Channing Tatum's character wears a Bulova 96A102 watch.
See more Timex watches in films and series.